Xiaomi iHealth Smart Blood Pressure Monitor
৳6,990 (-8%)
Xiaomi iHealth Smart Blood Pressure Monitor
Specification:
Brand: Xiaomi
Model: Model: BPM1
Power: DC 5V / 1A
Cuff range: 22 – 30cm
Measuring range: 0kPa – 40kPa ( 0mmHg – 300mmHg )
Resolution: 0.133kPa (1mmHg)
Pulse frequency measurement range: 40 times / min – 180 times /min
Accuracy: More or less 0.4kPa ( More or less 3mmHg )
Atmospheric pressure: 80kPa – 105kPa
Interface: Micro USB
Screen size: 4.3 inches
Wireless communication technology: 802.11b / g / nOperating Humidity: Less than 80pct
Operating temperature range : 5 – 40 degree
Product weight: 0.3500 kg
Product size (L x W x H): 11.90 x 11.80 x 5.10 cm / 4.69 x 4.65 x 2.01 inches
Feature :
Intelligent and automatic measuring compression and decompression
Increased memory storage allows you to monitor and store the last 2000 pieces of data for more than one person
Bluetooth 4.0 Version: Don't need to put the phone on the dock, more convenient to use
WeChat Interaction: When you connect the WiFi, if someone else did the blood pressure measurement, the measurement data will remote delivery to your WeChat
Track: iHealth records your systolic and diastolic pressures, heart rate, measurement time, and pulse-wave graph
Management: Helps you manage your records by using simple tools: graphs, average calculation, smart who classifications
Share: Share your results with friends or family members to keep them notified of your current situation and historical results
4.3 inch large color screen and Chineser voice prompt
Mijia blood pressure has 4.3 inch large color screen, we can see the text  clearly, It  equips with voice broadcast function. It can read the result loudly. Note: The text displaying on screen and voice prompt is Chinese.
WiFi Connection, Cloud storage
Built-in WiFi, It has large memory and can store up to 2,000 recordds.  When you connect it to WiFi. the measurement data can be sent to the phone and it also can be back up to the cloud storage. You with your families can check the measurement data anytime and anywhere.
Two button on the monitor 
It is easy to use. There're only 2 buttons on the monitor which indicate father and mother.  Parents  put on the cuff and press the button then MIJIA ihealth blood pressure monitor will automatically analyzes the measurement results.
Health services, weekly  monthly report
iHealth will generate A  weekly or monthly report for you to understand the changes of the blood pressure. You may change your parents lifestyle or eating habit according to the advice and report generated by iHealth.
2200 mAh large battery 
MIJIA Blood Pressure Monitor has a 2200 mAh large battery and can be used as thermometer and digital clock, too.
6 kinds of color indicatior 
The display will change according to the blood pressure monitored. There're 6 color indicator MIJIA Blood Pressure Monitor,  the green color indicates the blood pressure is under normal condition while the red color indicates the blood pressure is high.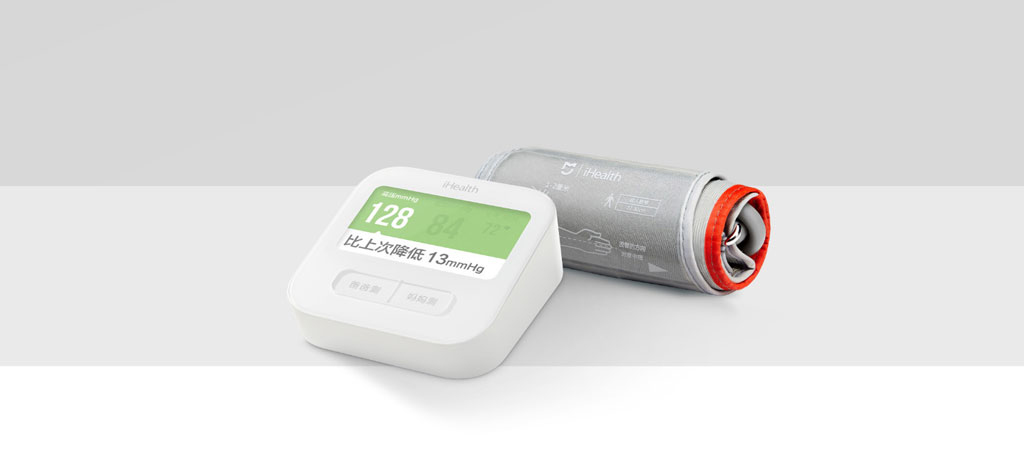 What is the price of Xiaomi iHealth Smart Blood Pressure Monitor in Bangladesh?
The latest price of Xiaomi iHealth Smart Blood Pressure Monitor in Bangladesh is ৳6450 You can buy the Xiaomi iHealth Smart Blood Pressure Monitor at best price from our website or visit any of our Store.