Sony MDR-XB650BT EXTRABASS Bluetooth Headphones copy
৳ 1,800 (-19%)
Detach yourself from the inconvenience of a wired headset and enjoy the freedom to listen to your favourite music wirelessly with this Sony headset. So whether you are traveling, working out at a gym or walking around, this versatile headset will deliver powerful bass, rich audio, and long-listening comfort.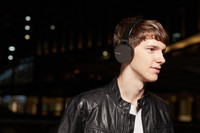 Feel the Bass
If you love EDM, then you are going to love grooving to your favourite tracks on this headset. Tailor-made for dance music, this Bluetooth headset features the Extra Bass technology that delivers a deep, punchy bass, making drops a bit more awesome.
Bass with Added Depth
These headphones are incorporated with the Bass Booster technology. So if you are traveling on a crowded bus, this technology will be helpful as it ensures quality sound by providing an acoustically tight seal for maximum sound isolation and a tight bass response.
Long Battery Life
Stuck in a long commute? You can put on the headphones and be lost in your world of music, thanks to this headsetu0027s long battery life. With a short charge time of up to 4 hours, this headset delivers up to 30 hours of wireless playback.
Wireless Connectivity
You can connect this headset to your smartphone through Bluetooth. If your smartphone is NFC enabled then you can simply touch the device to this headset for a quick, seamless connection. So wait no more to start the wireless streaming of your music collection.
Listen in Comfort
Wear it for a short period or through the entire commute, these headsets will let you listen to music in comfort. They come with a self-adjusting headband and soft, cushioned ear cups that cover the whole ear. So lean back on your seat and enjoy the long-lasting comfort while you groove to your favourite tracks.
Neodymium Dynamic Drivers
The headphones use lightweight 30 mm driver units to deliver precise sound for every track. And when it is combined with the sensitive diaphragm, listening to loud, clear and precise audio is possible even at a higher volume.
Built-in Mic
If you have an incoming call, instead of having to remove the headset simply use the built-in button and mic to answer the call. This feature allows you to switch between music and calls in a matter of seconds.
Swivel Design
Going away for a long trip? Donu0027t forget to pack these portable headsets. They come with ergonomically designed swivelling ear cups that allows you to fold them and store them when not in use. So fold it, pack it and carry it around where you go.
---
From the manufacturer
Connect and stream music easily with Bluetooth and NFC

Enjoy easy, one-touch connectivity and music streaming with NFC. No NFC? No problem. Connect via Bluetooth and you're ready to go.

Feel the power of Extra Bass

Made for today's heavy-hitting bass lines and dropping beats, Extra Bass technology delivers powerful, clear bass sound where it's hardest to find—in portable speakers and headphones. The result is a full, deep, resonating sound that's perfect for EDM, Hip-Hop and other music. So push the button, crank it up and let the bass drop.

Keep the music pumping with long battery life

A four-hour charge gives you up to 30 hours of continuous playback—so you can keep on listening, track after track, mix after mix.
Listen in comfort and style

The self-adjusting headband and soft, cushioned ear cups offer the long-lasting comfort you need for listening to your favorite albums back-to-back. And they look good doing it, too.

Enjoy hands-free calls

A built-in button and mic on the headband enables you to take hands-free calls from selected smartphones while listening to music. Switch easily between songs and calls with no need to remove your headphones.