Roll over image to zoom in
Click to open expanded view
ORICO V2C Silent Click Wireless Mouse
৳1,200 (-38%)
ORICO V2C Silent Click Wireless Mouse
The ORICO V2C is a wireless mouse that is connected via 2.4Ghz. It supports a stable connection within 15m distance. It is a silent mouse that is ideal for public spaces and late-night projects at home. You can work quietly without disturbing anyone. It features a streamlined design that fits the curve of your hand better and provides better support for the palm. Providing you with a comfortable experience even if you use it for a long time. This super smooth mouse comes with advanced optical tracking technology which effectively improves efficiency. It is compact and portable with a wide range of compatibility.
spacafaition:
Model: ORICO V2C
Wireless connection via 2.4Ghz
Transmission speed: 2Mbps
Engine: Optical
DPI: 1600
Color Black (WDM-V2C-BK-BP) White (WDM-V2C-WH-BP) Red (WDM-V2C-RD-BP)
RGB NO
Sensor 1600 DPI
Keys Wireless mouse Silent click
Connection Type Wireless connection via 2.4Ghz Includes receiver for a USB-A port Transmission speed: 2Mbps
Wireless Distance Wireless
Dimension(LxWxH) 100mm x 61mm x 38mm
Others Button Life: 5 Million Times
Weight 58±5g
Battery Operates on 1 AA battery (not included)
Features:
Wireless connection via 2.4Ghz
The wireless mouse comes with a receiver. This can be plugged into any USB-A port of a laptop or computer, after which the mouse works on 2.4Ghz. This allows you to wirelessly create a secure connection between the mouse and a computer, laptop or tablet. The advantage of connecting a mouse wirelessly? No more annoying cable tangling!
Advantages of the Orico wireless mouse
The mouse has a silent click, can be connected via a supplied receiver and is suitable for both Windows and Mac Os. Because the mouse produces less clicking noise, no one is distracted anymore. You and the others in the room can fully concentrate on the work without being distracted by clicking noises.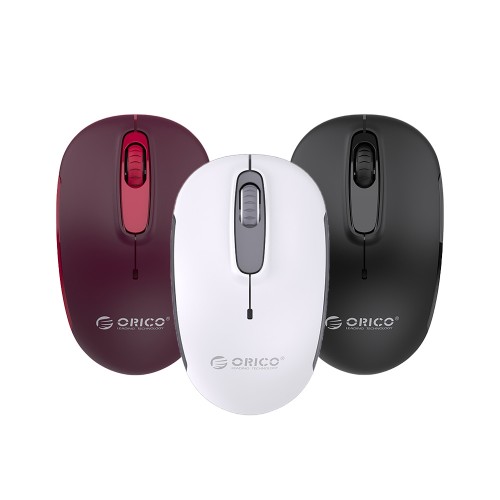 What is the price of ORICO V2C Silent Click Wireless Mouse in Bangladesh?
The latest price of ORICO V2C Silent Click Wireless Mouse in Bangladesh is ৳750 You can buy the ORICO V2C Silent Click Wireless Mouse at best price from our website or visit any of our Store.