-

16

%
Roll over image to zoom in
Click to open expanded view
Numark NS7III USB MIDI DJ Controller
৳125,000 (-16%)
Numark NS7III USB MIDI DJ Controller
Numark's flagship NS7III DJ control system is one of the most comprehensive Serato rigs ever made. It's designed to satisfy both the most demanding controllerist and the most discerning turntablist. Hands-on controls such as touch-activated capacitive knobs and real Akai MPC performance pads put you in the middle of the mix, while a pair of fully adjustable platters with real direct-drive turntable motors will make even old-school scratch artists feel at home. Best of all, with the NS7III's three high-resolution color screens, you can tuck your laptop out of sight and keep your focus on the music and the crowd. A Serato DJ Pro software license is included.
Specification ;
Brand : Numark
Model : Numark NS7III
Feature :
4-channel DJ performance controller that connects you to Serato DJ
A trio of high-resolution color screens let you keep your laptop out of sight
7″ motorized turntables with 3,600 ticks of resolution provide phenomenal feel and control
High- and low-torque turntable settings let you dial in your start/stop times
High-quality 4-channel mixer and 24-bit audio interface built in
Curve-adjustable CP-Pro crossfader gives you professional performance and response
Mix with ease thanks to comprehensive loop, sample, slicer, and hot cue controls
Capacitive touch-sensitive filter, gain, EQ, and effects knobs respond effortlessly
Strip Search virtual needle-drop technology makes song navigation a breeze
16 backlit MPC pads provide control over cue, loop, sampler, and other functions
Rugged all-metal construction built to withstand regular travel and live performance
Full copy of Serato DJ Pro software with DVS included — no need to upgrade!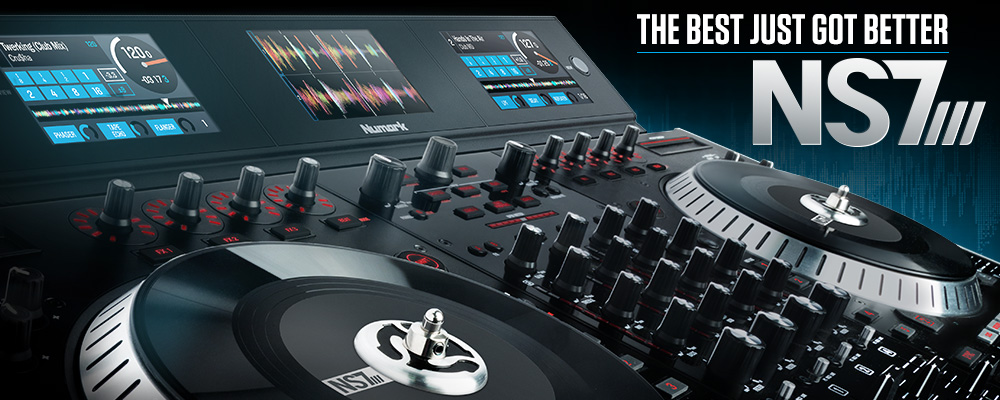 NS7III—The Best Hands-on Controller Money Can Buy. Period.
Our flagship NS7III controller is a premier four-deck controller for Serato DJ. Featuring three high-resolution color screens with a stackable waveform display and an interactive control surface, the NS7III forges a kinetic—no, make that radioactive— connection between the audience and your music.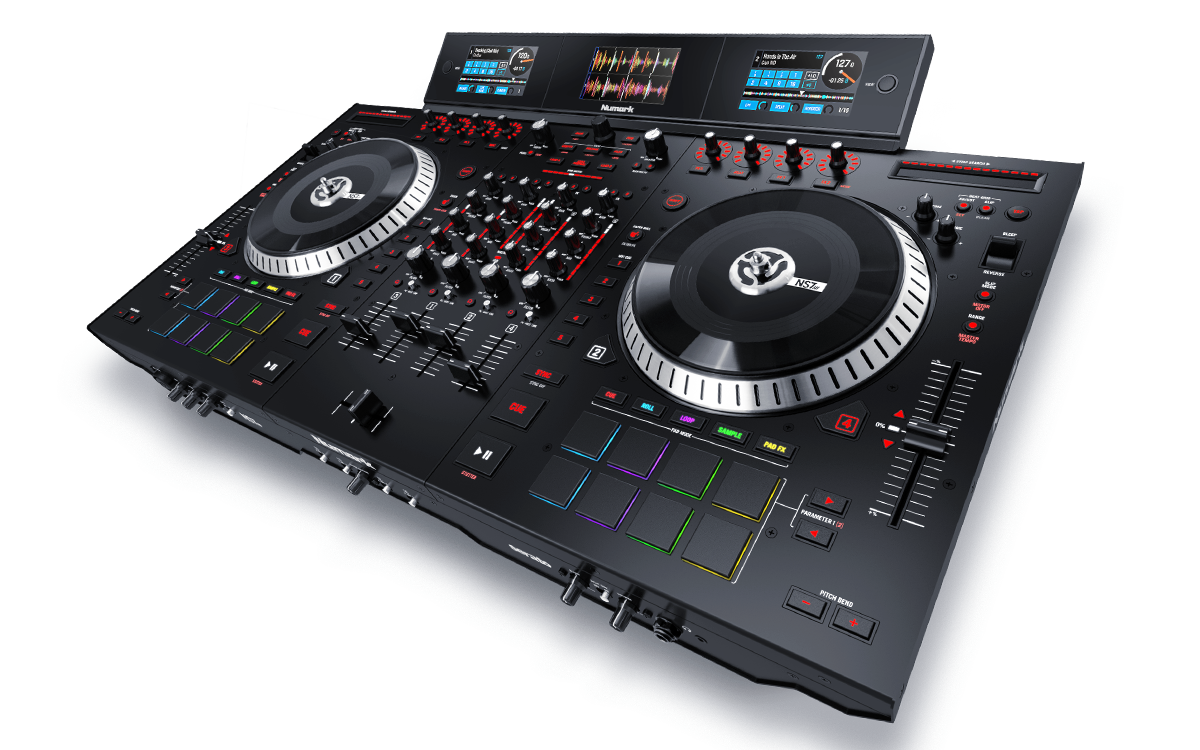 The NS7III is the ONLY motorized controller on the market today that gives the dedicated turntablist a true and authentic mixing and spinning experience. With our exclusive 3 full color LCD screens, we're dedicated to allowing you to focus 100% of you attention on your mix, your controller, your audience, and your craft.  While our competitors might still be chasing that dream, Numark has arrived!
This controller offers features and performance that sets it way above conventional DJ controllers, even other companies' so-called "top-of the line" units. This is the Big Daddy of controllers. If you're serious about your performance, this is where you want to be.
Professional Features, Professional Performance
Don't settle for less. You demand no-compromise performance from your equipment and the NS7III delivers—like nothing else out there. Building upon our acclaimed and wildly-popular NS7II, the NS7III continues Numark's "best of both worlds" approach by fusing the power of a Serato DJ-managed digital music library with the highly-desired response of a professional DJ turntable. Then the NS7III really raises the bar with real time visual feedback of Serato DJ via three vibrant, 4.3-inch full-color screens.
Two of the screens provide moving waveforms, playhead, deck, and FX status. The third central screen gives you a dedicated view of your track library. But this is really great—this third central screen can also be switched to display stacked parallel waveforms for complete beat matching control of your active programs. Now, you can manage all your critical performance elements with the source laptop out of sight or closed altogether.

In the "Numark-is-such-a-cool-company" category: The NS7III's 3-screen array is available separately for your NS7II. Yes! You can upgrade your NS7II to NS7III capability!
Create, Innovate, Amaze
There's no limit to what you can do with the NS7III. There are 29 capacitive touch-sensitive knobs for filter, gain, EQ and effects. You can adjust the sound to be exactly the way you need it, for any setting, any situation. There are 16 multi-function backlit MPC® performance pads from Akai Professional so you can add loops, launch samples, and control hot cues to your performance. Use the multi-function touch strip for dynamic FX control and track search operation.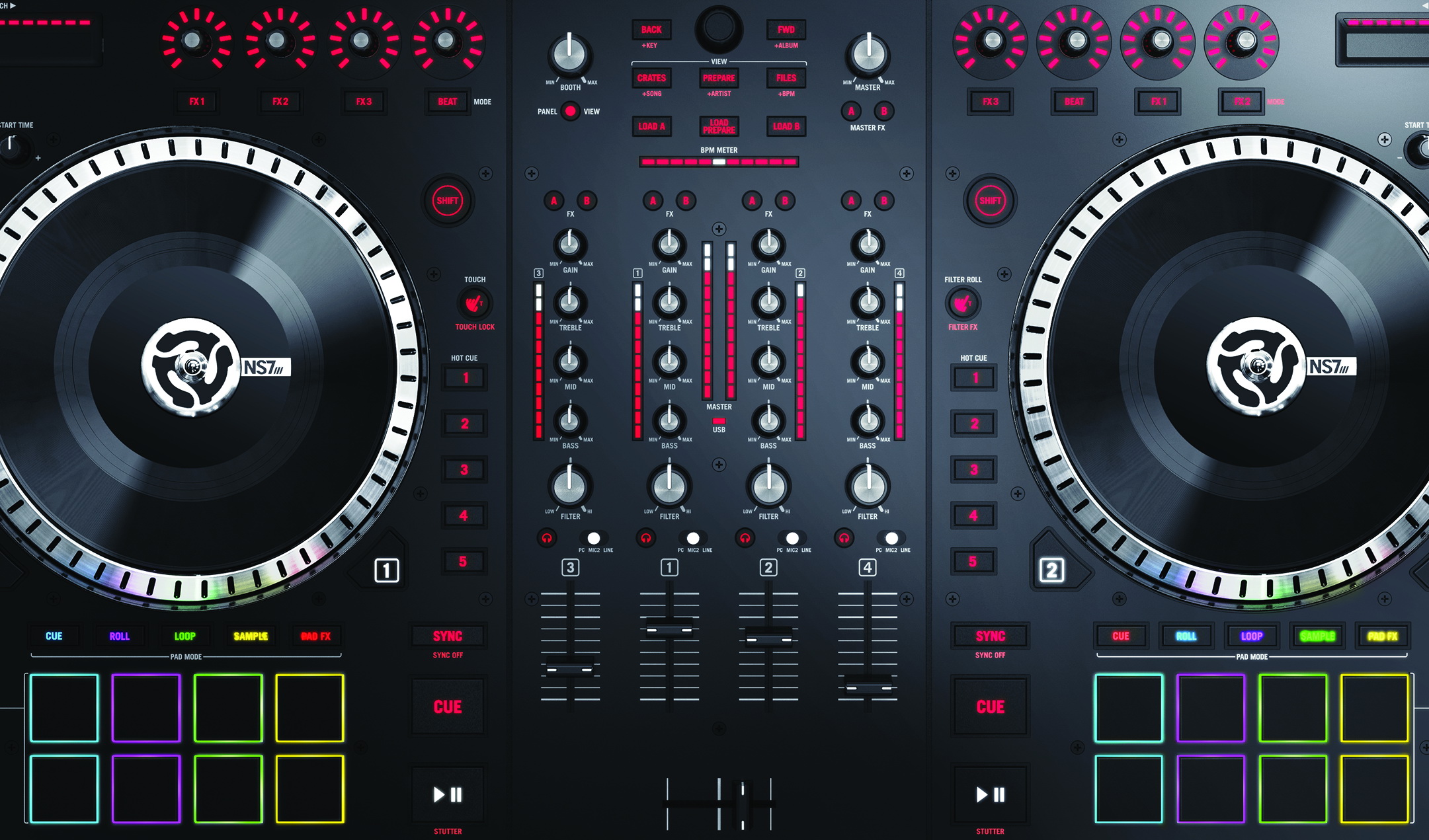 Mix to your heart's content—you can connect up to four (4) audio sources and mix CD players, turntables, MP3 players or any other external source. Channels 1 & 2 have both phono and line-level inputs; channels 3 & 4 are line-only. Best of all, the NS7III's mixer operates standalone, either with or without your computer! The NS7III works with you to make your performance effortless. It never gets in your way or slows you down.
Turns on a Dime!
With your NS7III, you have the best of both worlds. The art of mixing was born on vinyl, and with the NS7III that's where it remains. Our dual 7-inch motorized turntables have an ultra-high resolution MIDI with 3600 ticks per revolution, so you can dial in exactly the effect you want. Exactly. Plus, there are genuine vinyl discs and real felt slipmats for that perfect tactile feel and control.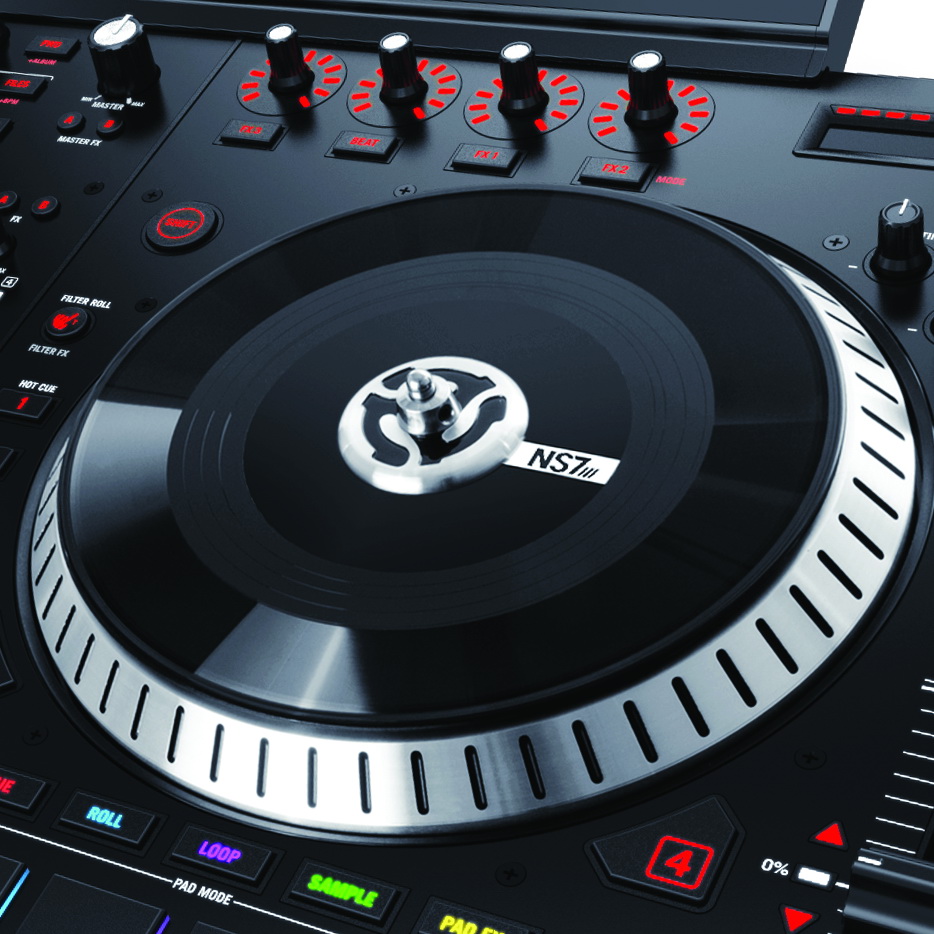 The platters have a high and low torque switch that changes the resistance of the platters. We know that some DJs like their platters a little "looser" to make it easier to scratch and others prefer them a little firmer, to emulate the feel of a turntable more closely. Either way, the choice is yours—as it should be.
When it comes to feel, response, and high-performance mixing, it doesn't get any better. NS7III gives you the unmatched precision and feel of true analog turntables combined with all of the conveniences of your digital music library. You'll feel comfortable with the NS7III right way!
Total Serato Control
The NS7III includes the full version of Serato® DJ software. Get your hands on the most creative tool for Serato DJ available. NS7III gives you the power to unlock never-before-seen features of Serato DJ through new and innovative hardware controls, including Filter Roll, Filter FX, and Touch FX, which all allow you to control Serato DJ simply by touching an element on NS7III's control surface. NS7III empowers you with spontaneous performance capability that feels so natural you'll wonder where you end and the music begin.
What is the price of Numark NS7III USB MIDI DJ Controller in Bangladesh?
The latest price of Numark NS7III USB MIDI DJ Controller in Bangladesh is ৳105000 You can buy the Numark NS7III USB MIDI DJ Controller at best price from our website or visit any of our Store.