HAYLOU GT2S True Wireless Earphones
৳2,400 (-44%)
Model: Haylou GT2S
Anti-Jamming Stable Connection
In-ear TWS Bluetooth v5.0
Up to 12hr battery Life
Operation range: 10m
HAYLOU GT2S True Wireless Earphones
Xiaomi Haylou GT2S is a new inexpensive TWS Bluetooth 5.0 earbuds with sensible sound. They support independent connection of each earbud to the signal source, which will increase noise immunity and makes the connection more reliable. 2 master earbuds mean easy, seamless switch between mono and stereo modes, obtaining connection more stable like ever. they can operate within the range of 10m. Haylou GT2S earbuds absolutely reproduce music while no loss of quality due to the utilization of AAC, and also the new polymer resin diaphragm 7.2 mm sounds wonderful throughout the frequency range. A separate DSP is responsible for the voice quality throughout calls. each earbud weighs solely 3.7g and is comfortable to wear, fits well in your ear, and is nearly invisible from the outside. The earbuds have a continuous operation time of four hours, and once using the charging case, the battery life is extended to twelve hours. It has a built-in microphone It is powered by a Li-Ion 43mAh battery. Playback/Pause, Music control, Incoming call notice, Stereo talking, Noise isolation, Voice prompt features are supported by the Xiaomi Haylou GT2S TWS Bluetooth Dual Earbuds.
Feature :
Bluetooth 5.0 is really wireless, just pick it up
A new generation of Bluetooth 5.0 chip, get rid of the trouble of traditional Bluetooth headsets and wired headset cables, lower latency, and bring a more convenient and free experience.
Master-slave switching, stable and continuous connection
Dual-transmit and dual-receive, seamless master-slave switching, at any time, you can use it when you pick it up, and it will automatically shut down and charge when you put it back into the charging box.
Lightweight and portable, easy to hide
Small ID design, comfortable to wear, easier to hide, with a lightweight charging box, easy to store and carry
12 hours of continuous music playback
Used with the charging box, it can continuously play music for up to 12 hours.
AAC HD decoding protocol HD sound quality
7.2mm polymer resin diaphragm speaker, AAC HD Bluetooth decoding protocol. Supplemented by DSP high-speed digital noise reduction, high-fidelity stereo voice calls, like being on the scene.
Specification :
Model: Haylou GT2S
Wearing Type: In-ear TWS Bluetooth Earbuds
Color: Black
Weight: 3.7g
Microphone: Yes
Bluetooth version: V5.0
Operation range: 10m (open space with no obstacle)
Charging time (earbuds): Approx. 1.5hr
Charging time (charging case): Approx. 3hr
Standby time: Approx. 100hr
Playing time: Approx. 4hr
Battery life (with charging case): Approx. 12hr
Battery type; Li-Ion
Battery capacity (single earbud): 43mAh
Battery capacity (charging box): 310mAh
Bluetooth profiles: HFP / HSP / A2DP / AVRC
Functions: Playback/Pause, Music control, Incoming call notice, Stereo talking, Noise isolation, Voice prompt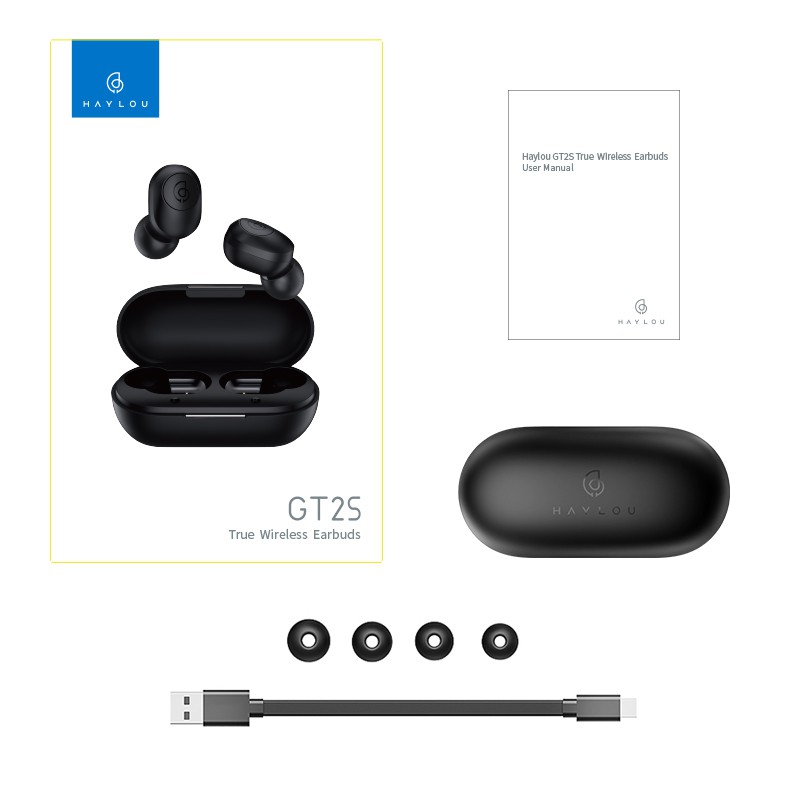 What is the price of HAYLOU GT2S True Wireless Earphones in Bangladesh?
The latest price of HAYLOU GT2S True Wireless Earphones in Bangladesh is ৳1350 You can buy the HAYLOU GT2S True Wireless Earphones at best price from our website or visit any of our Store.