Edifier M201BT Bluetooth Speaker
৳5,500 (-10%)
Edifier M201BT Bluetooth Speaker
M201BT Bluetooth speaker This is an all-in-one multimedia speaker that brings your Bluetooth and non-Bluetooth devices into harmony. You can pair all kinds of Bluetooth devices wirelessly such as your computers, smartphones, tablets, or you can also wire connect the speakers to those devices if they have a 3.5mm audio input.The system includes two 84×153×103mm / 3.3-inch x 6-inch x 4-inch satellite speakers and one 161×200×280mm / 6.3-inch x 7.87-inch x 11-inch 5″ subwoofer with 68 watts peak power output to create a wide and full sound audio experience. The stable and thick wooden enclosure subwoofer can effectively reduce the undesirable resonance, and obtain a more pure and rich sound
Specification:
Brand:Edifier
Model:M201BT
Type – Bluetooth Speaker
Channel – 2:1
RMS/Channel (Watt) – 8Watt x 2
RMS/Subwoofer (Watt) – 18Wat
Frequency (Hz – KHz) 210Hz-20KHz (Satellites), 63Hz-206Hz (Subwoofer
Channel 2:1
RMS/Channel (Watt) 8W x 2
RMS/Subwoofer (Watt) 18W
Output Power 34W
Signal to Noise Ratio (dB) >-80dB (Subwoofer), >-85dB(A) (Satellites
Feature :
Edifier M201BT Bluetooth Speaker in Bangladesh
Adopt digital audio processing, precise electronic frequency division and dynamic management, well match the characteristics of the unit, and ensure the balance of middle and high frequency. Equipped with a 131mm large-diameter woofer, combined with a front-mounted inverter tube, the low frequency is powerful and powerful, and the sound field atmosphere is panoramically constructed.
The wooden box is stable and thick
The 9MM thickness MDF wooden structure cabinet is stable and thick, which can effectively reduce bad resonance and obtain more pure and good sound.
The integrated side panel is simple and easy to operate
The side panel design greatly optimizes the convenience of operation and connection, and ensures that there is more effective space left in the box, and the operation is more smooth.
AC97 standard connection compatible with multiple devices
Adopt AC97 standard connection mode with 3.5mm interface, compatible with desktop computers, notebooks, mobile phones, MP3 and other devices, one machine for multiple uses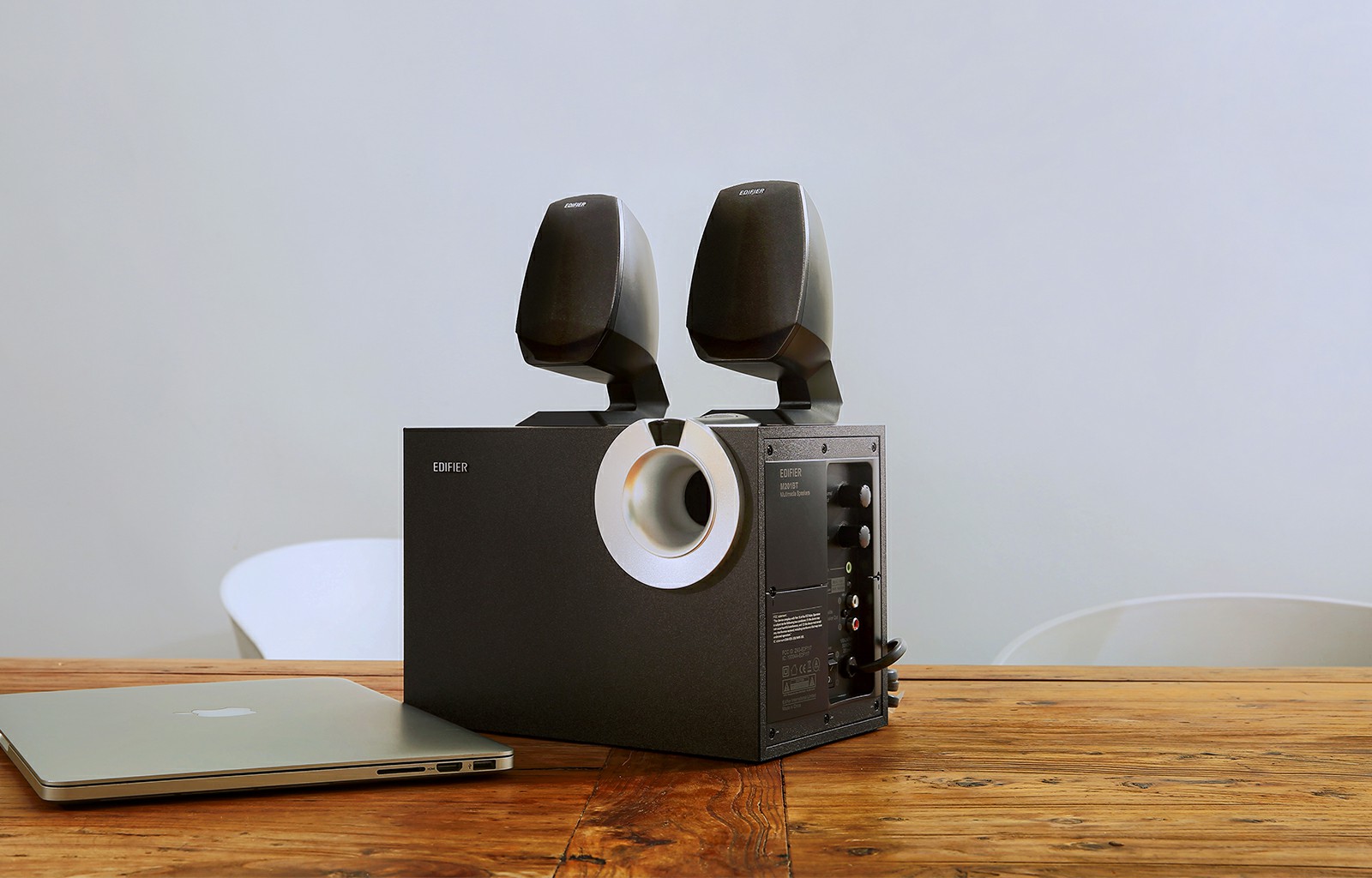 What is the price of Edifier M201BT Bluetooth Speaker in Bangladesh?
The latest price of Edifier M201BT Bluetooth Speaker in Bangladesh is ৳4950 You can buy the Edifier M201BT Bluetooth Speaker at best price from our website or visit any of our Store.