Edifier H210 A Fresh Look With An Impressive Sound
The H210 sound isolating earphones have been designed with a 15-degree outward audio line tilt, which is built to improve noise isolation by reducing auscultation, giving you a pure audio experience. Audiophiles can appreciate the hi-tech value Edifier put into the design of the H210 earphones. Designed with user experience in mind, Edifier's H210 sound isolating earphones deliver comfort, reliability and durability.
Specification:
Brand Edifier
Model: H210
FREQUENCY RESPONSE:20Hz~20kHz
IMPEDANCE:24Ω
CONNECTOR TYPE:Straight
MAXIMUM POWER:1mW
SOUND PRESSURE LEVEL:105dB
CABLE LENGTH:1.3m
WEIGHT:10g/40g
CONNECTOR:3.5mm
INLINE CONTROL:No
DRIVER DIAMETER: 9mm
impedance: 24Ω
connector type: Straight
Maximum power: 1mW
sound pressure level: 105dB
cable length: 1.3m
weight:10g/40g
connector: 3.5mm
inline control: No
driver diameter: 9mm
Feature:
Treble: As I mentioned before. The lower treble is energetic, but edgy and sibilant. This leads me to believe that the H210 has a V-Shaped Sound Signature. Elevated bass and elevated upper midrange/lower treble. The rest of the treble region is almost blended into the background. So it's not easy to pick up on it.
Soundstage: In comparison to my Havi B3P1 and Titan 1. It's intimate. About average width and depth. Even though the soundstage is average. The dynamic drivers pump out quite a bit of air. It's airy, despite the average soundstage.
Accuracy: For a warm sounding IEM such as the H210. It tries it's best not to turn fast paced music into a cluttered mess. It tries to keep up with position of instruments for well mastered music. Overall it's alright.
Conclusion: The H210 is pretty interesting for an Entry Level IEM that has a sound signature that will appeal to those that are looking for back up earphones for under $30. Or for those that want a good gateway into the hobby of music listening. These will do nicely. From the copious amounts of bass to the smooth sounding treble and the shifty Mids in between. The Edifier H210 can definitely keep you entertained if you listen to any songs with female vocals, horns or strings. If you don't mind the warm and dark sound signature, then these are for you.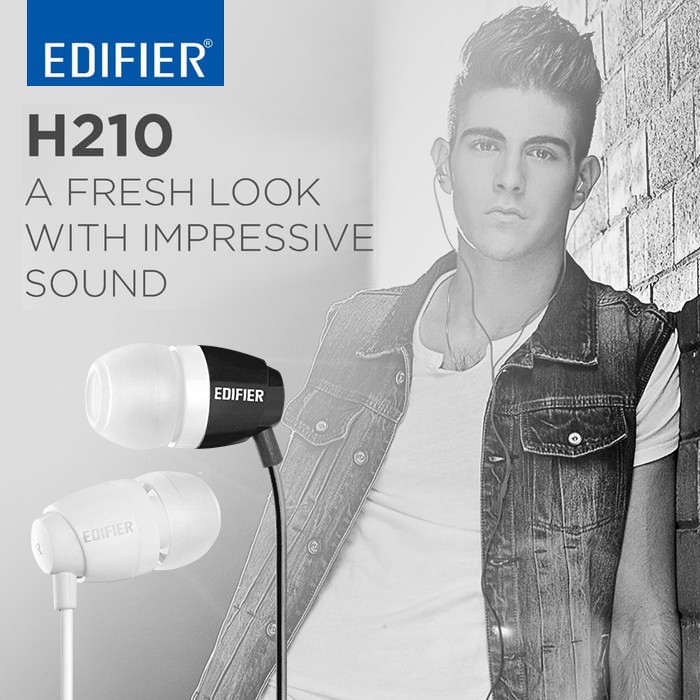 What is the price of Edifier H210 A Fresh in Bangladesh?
The latest price of Edifier H210 A Fresh in Bangladesh is ৳450 You can buy the Edifier H210 A Fresh at best price from our website or visit any of our Store.