-

12

%
Roll over image to zoom in
Click to open expanded view
Baseus DHMY-B02 Slim Waist Humidifier
৳1,650 (-12%)
Baseus DHMY-B02 Slim Waist Humidifier
Specification :
Brand :Baseus
Model :DHMY-B02
Material: PP+ABS
Input voltage and current: 5V/1A
Working current: 0.6A
Charging port: USB
Water capacity: 380mL
Spray amount: 20-35mL/h
Continuous spray: 6h
Intermittent spray: 12h
Feature :
The design of the device is made of polypropylene and shockproof plastic, which guarantees it a long service life and resistance to mechanical stress.
Baseus Slim Waist Humidifier is functional. It can also be used as a nightlight, while at night the level of remaining water will be clearly visible.
The device is extremely easy to use – it is easy to assemble and disassemble.
The capacity of the device is 0.38 liters. This is enough to quickly humidify the air in the room and maintain its humidity at the optimum level for 6-12 hours.
The capacity of the humidifier is up to 20-35 ml / h.
Simple and clear use.
A silicone ring is installed on the lid. If dropped, water will not spill from the flask.
Evaporation rate can be adjusted. There are 2 speeds.
The noise level during operation of the Baseus Slim Waist Humidifier does not exceed 25 dB. He will not bother you during sleep and rest.
The device has a fairly compact dimensions 88 x 88 x 155 mm and low weight. It is easy to transport from place to place.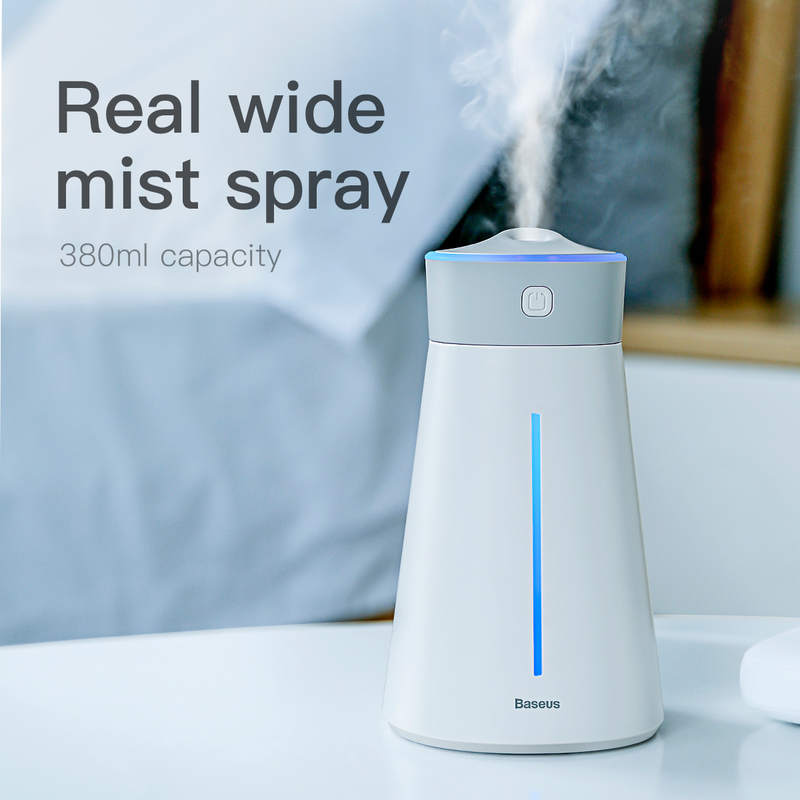 What is the price of Baseus DHMY-B02 Slim Waist Humidifier in Bangladesh?
The latest price of Baseus DHMY-B02 Slim Waist Humidifier in Bangladesh is ৳1450 You can buy the Baseus DHMY-B02 Slim Waist Humidifier at best price from our website or visit any of our Store.