Anker Eufy Smart Scale C1
৳3,500 (-16%)
Holistic Health: Instantly learn 12 insightful measurements of your body's health
Free Eufylife App & 3rd-Party Apps: Track your measurements on Apple Health, Google Fit, and Fitbit
Accuracy Improved by 10%: Two pairs of super-sensitive G-shaped sensors ensure more precise measurements
For The Whole Family: Track the health trends of up to 16 users from one account, recognise each member automatically
Anker Eufy Smart Scale C1
Specifications :
Model : Eufy smart scale c1
Dimension: 11*11*0.9 inches
Battery: 3 AAA
Maximum Weight: 396lb/180kg
Measurements Include: 12
Third Party Apps: Apple Health, Google Fit, and Fitbit App
Wireless: Bluetooth 4.2
Unit: kg/lb
Feature :
HOLISTIC HEALTH: Instantly learn 12 insightful measurements of your body's health.
FREE EUFYLIFE APP & 3RD-PARTY APPS: Track your measurements on Apple Health, Google Fit, and Fitbit.
ACCURACY IMPROVED BY 10%: Two pairs of super-sensitive G-shaped sensors ensure more precise measurements.
FOR THE WHOLE FAMILY: Track the health trends of up to 16 users from one account, recognize each member automatically.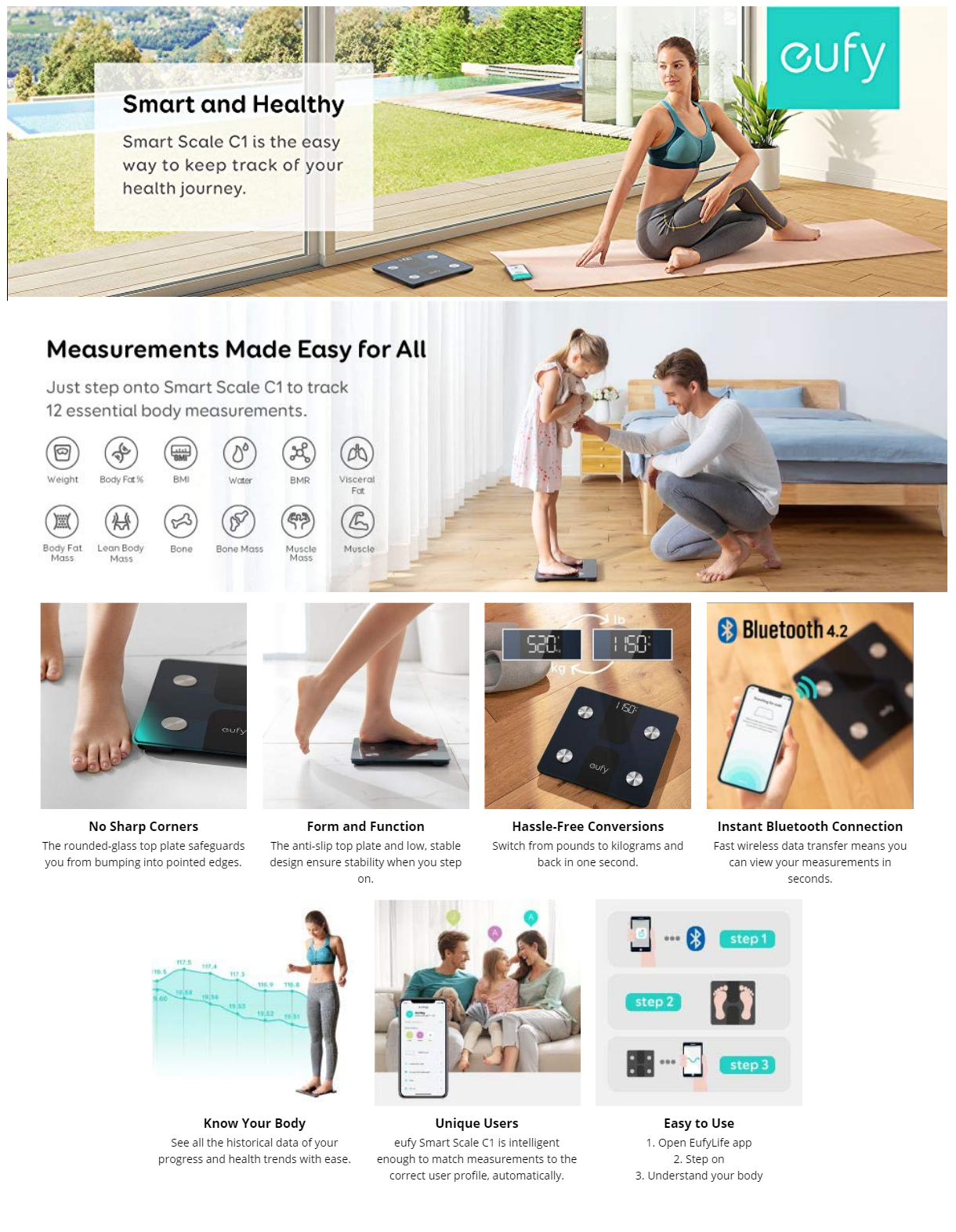 No Sharp Corners
The rounded-glass top plate safeguards you from bumping into pointed edges.
Form and Function
The anti-slip top plate and low, stable design ensure stability when you step on.
Hassle-Free Conversions
Switch from pounds to kilograms and back in one second.
Instant Bluetooth Connection
Fast wireless data transfer means you can view your measurements in seconds.
Know Your Body
See all the historical data of your progress and health trends with ease.
Unique Users
Smart Scale C1 is intelligent enough to match measurements to the correct user profile, automatically.
What is the price of Anker Eufy Smart Scale C1 in Bangladesh?
The latest price of Anker Eufy Smart Scale C1 in Bangladesh is ৳2950 You can buy the Anker Eufy Smart Scale C1 at best price from our website or visit any of our Store.