-

14

%
Roll over image to zoom in
Click to open expanded view
AKG Lyra Multipattern USB Condenser Microphone
৳14,500 (-14%)
AKG Lyra Multipattern USB Condenser Microphone
Microphone Type:

4-capsule Condenser

Mono/Stereo:

Mono, Stereo

Polar Pattern:

Front, Front+Back, Tight Stereo, Wide Stereo

Frequency Response:

20Hz-20kHz

A/D Resolution:

24-bit/192kHz

Max SPL:

129dB SPL

Connector:

USB-C, 1 x 1/8″ (headphones)

Software:

Ableton Live Lite

Requirements – Mac:

OS X 10.11.6 or later, iOS 10 or later

Requirements – PC:

Windows 8 or later, Android 9 or later (requires OTG compatible device)

Power Source:

USB bus power

Dimensions:

9.7″ x 4.23″

Manufacturer Part Number:

C44-USB
Features
For Content Creators of All Kinds
For Computers, iOS & Mobile Devices
4-Capsule Array for Multiple Modes
Front, Front & Back, and 2 Stereo Modes
3.5mm Headphone Output with Volume Knob
Mute Switch & Mic Gain Controls
Plug-and-Play Setup
Stylish, Vintage Look
Supports Desktop or Stand Mounting
4-capsule mic array provides superior coverage
Behind the grille, the AKG Lyra houses a 4-capsule mic array. These mics capture great audio and provide stellar coverage with four selectable polar patterns. Sitting in front of the mic? No problem. Have a friend with you on the other side of the mic? The Lyra's got you covered. To help you record without a hitch, use the microphone gain control on the back of the AKG Lyra's body to tone down loud sounds and provide an extra boost if you're whispering.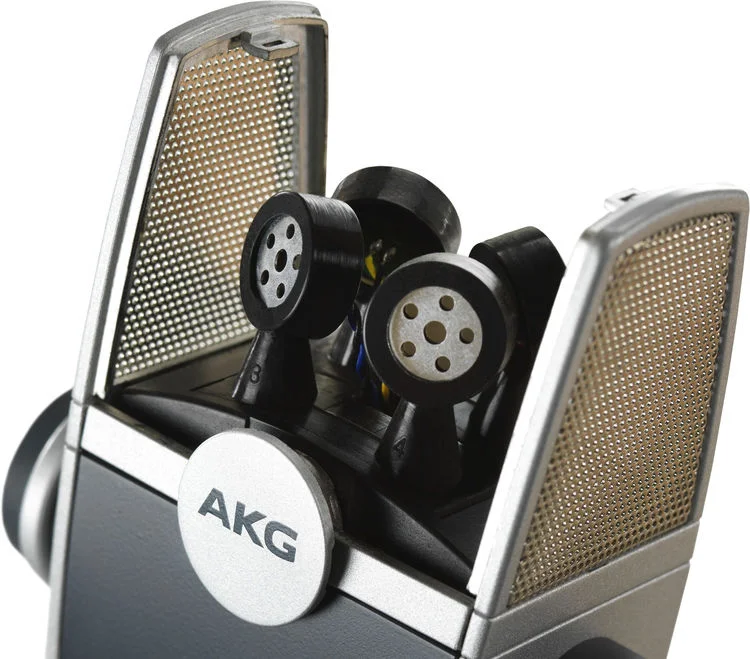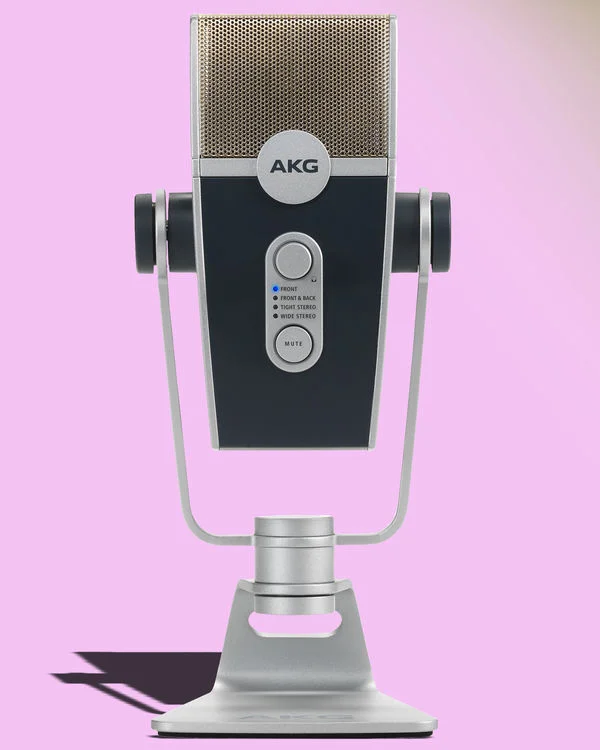 Easy-to-remember pattern names
Unlike other microphones that show confusing graphs to explain polar patterns, the AKG Lyra has user-friendly labels for their polar patterns. When you're setting up, simply select from Front, Front & Back, Tight Stereo, or Wide Stereo and start recording. At Sweetwater we especially appreciate how easy the Lyra USB microphone makes conducting interviews with the Front & Back pattern. With these pattern options your mic can be used for your single- or dual-host podcast, ASMR videos, and anything else in-between.
Compact, rugged construction
The AKG Lyra is a compact mic that will easily fit on your desktop. In addition to its size, the Lyra has a '50s-style body with striking lines that lend it an undeniable vintage vibe. Wear and tear won't be a bother, thanks to its metal-body construction. This USB microphone ships to your door with an included detachable base and thumbscrew to complete the vintage look. The base allows the mic to tilt in order to provide the best possible recording angle.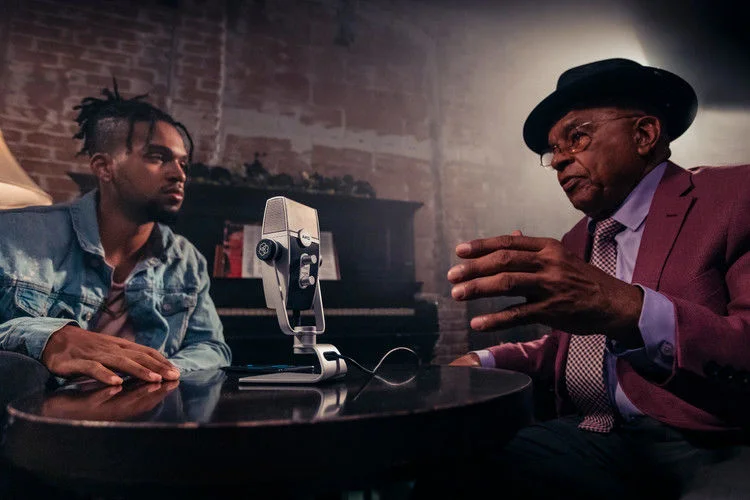 Versatile Applications
Whether you're recording a podcast interview, a YouTube video voice-over, or your next Spotify single, Lyra's innovative AKG Adaptive Capsule Array adapts to your performance to record pristine audio. The Lyra can handle anything from traditional voice/instrument recording to vlogging, live streaming, field recording, stereo ASMR, and web conferencing.
Plug-and-Play Universal Compatibility
Plug-and-play setup for Mac/Windows computers and iOS/Android devices ensures easy operation; no assembly and no messing with software settings. Simply connect the Lyra to your device with the supplied USB Type-C to USB Type-A cable, a separately available Apple Camera Connection Kit (for Lightning devices), or an optional OTG adapter cable to use it with popular audio and video production software, live streaming, and conferencing applications.
Headphone Monitoring with Zero Latency
When you're speaking, singing, or playing an instrument in the studio, you need to hear yourself and your backing tracks at the same time in order to perform your best. That's why Lyra is equipped with a "zero-latency" 3.5mm headphone jack to eliminate the short delay between when you perform into the microphone and when you hear yourself in the headphones, so you can stay focused on your performance.
Adaptive Four-Capsule Array
The Lyra's proprietary Adaptive Capsule Array utilizes four condenser capsules to offer four user-friendly capture modes (polar patterns)—front, front and back, tight stereo, and wide stereo—to accommodate a variety of performances and applications. LED indicators display the capture mode at a glance.
Front: Isolates the target source from distracting background noise by rejecting unwanted sounds at the microphone back and sides—ideal for spoken word, vocals, and close-miked instruments.
Front and Back: Captures and blends together sound equally on all sides—ideal for face-to-face interviews and duets.
Tight Stereo: Captures audio in true stereo, providing discrete left and right audio for great sound separation—ideal for recording side-by-side interviews, panel discussions, drums, or piano.
Wide Stereo: Captures audio with greater stereo separation, room ambience, and depth—ideal for situations where you want to capture sounds all around the mic, such as documentaries, field recordings, or spontaneous jam sessions.
Ultra-HD Audio Quality
The Lyra's advanced circuitry delivers acoustically transparent, 24-bit / 192 kHz audio resolution to meet the standards of 4K Ultra-HD projects. An internal self-adjusting shockmount mitigates vibrations from reaching the capsules, and the proprietary Internal Element Overload Prevention and built-in sound diffuser work together to automatically reduce noise, eliminate pops, and improve signal levels.
Styled with Vintage Appeal
Inspired by classic studio microphones like the legendary AKG C414, Lyra's sleek design is sure to spark your creativity. Every function you need—capture modes, mic gain, headphone volume, and mute—is ergonomically positioned and easily accessed right on the mic so you can stay in the moment while always being in control. An integrated, removable, perma-tilt desktop stand with built-in cable management makes it easy to position the mic on your desktop. The Lyra can also be mounted to a traditional mic stand or microphone boom arm for more flexibility in the studio.
Powerful Bundled Software
The Lyra works seamlessly with all major audio and video production software and online platforms, and it includes Ableton Live Lite recording software so you can create content right away.
or those who want a high-quality experience out of their USB microphone, the AKG Lyra offers high-definition audio, powerful versatility, and superb simplicity, all while providing a stylish on-screen appearance. Whether you're creating online content, podcasting, vlogging, live-streaming, producing music, or fashioning ASMR content, the Lyra can come in handy.
The Lyra fulfills the needs of those looking for both a studio-quality sound and an effortless setup that avoids mixers, preamps, audio interfaces, and things of that ilk. As such, the mic offers 24-bit / 192 kHz conversion, a built-in shockmount, and internal diffusion to yield pristine sonic quality for your recordings. Take advantage of the integrated desktop stand and its built-in cable management to place the Lyra on a table, or remove the desktop stand, and you can mount the Lyra on your favorite boom arm or mic stand.
What is the price of AKG Lyra Multipattern USB Condenser Microphone in Bangladesh?
The latest price of AKG Lyra Multipattern USB Condenser Microphone in Bangladesh is ৳12490 You can buy the AKG Lyra Multipattern USB Condenser Microphone at best price from our website or visit any of our Store.